After having my LG Dare for only about a year and a half, the cells in the battery began to swell and the phone was unable to hold a charge for over two minutes. Coincidentally, it started doing this just as the HTC Incredible was about to be released and I was eligible for a new phone upgrade. Talk about good timing! The phone was $199 after a mail-in rebate (which I received not too long ago) plus an additional $50 off for upgrading, bringing the price of this Android-powered mobile powerhouse down to a mere $149.99! I've had this device for nearly a month and I figure it's best that I pitch in my two cents about it before it becomes overshadowed by the superior and (ironically) incredible HTC EVO 4G.
The Hardware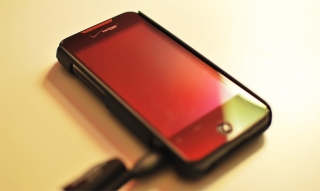 Physically speaking, the phone is gorgeous. My Incredible is pictured here with the
slide-in holster/case combo
offered by Verizon ($29.99) and Boxwave
ClearTouch Crystal screen protector
($12.95). The build quality is sturdy and tough, something that is usually always expected from a flagship HTC handset. Anybody who has been following the device will know that it sports a 1GHz Snapdragon CPU, 8GB of internal storage, 748MB of ROM, a microSD slot (supports up to 32GB cards), an 8 megapixel camera with dual LED flash/autofocus, and a clear, vibrant 480 x 800 Samsung AMOLED capacitive touchscreen. The entire bottom has a rubber coating which will withstand most minor scratches, but I would still recommend buying a case to protect it. Without a case, the phone rests on the extended camera lens when laid flat. Moving the phone around while in this position could cause some damage and scratching to the camera lens. The problem can be prevented with a case, as it would raise the position of the camera lens and prevent it from coming into contact with the surface. On the sides of the phone, you'll find the power button, 3.5mm headphone jack, volume buttons, a micro-usb connector, and microphone. Along with the capacitative buttons under the screen, the device also features an optical trackpad instead of a trackball which you'll usually find in other HTC handsets. Unfortunately, I find that using the optical trackpad is a bit more frustrating than using a trackball or directional pad, especially when it comes to certain applications and games.
The Software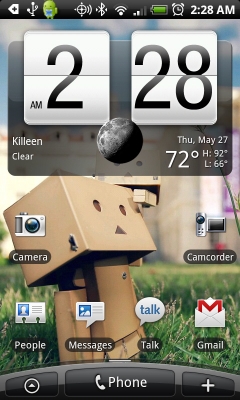 As this is my first Android-powered handset, I had no experience using the Android platform prior to buying the phone. A month later and I'm completely hooked to it. The Sense UI by HTC is a very nice implementation which makes the Android experience feel iPhone-like in almost every aspect. It's clean, polished, and thanks to the powerful hardware it runs on, it runs very fast with extremely little or no lag. Menus, animations, transitions, etc. all run smoothly on the device. The only time that I've experienced slowdown on the device was when it was opening an SMS conversation of over 1100 messages, but it still opened it all in a reasonable amount of time, considering what was being loaded. Though I can pretty much wrap my hand around it, I still have much to learn about the Android platform as a whole. I'll probably steer away fom rooting the device. Playing around with the Android SDK can be pretty fun. With the recent release of
Android 2.2 Froyo for the Nexus One
, I wonder how long it will be before HTC releases it for the Incredible, considering that they may focus on pushing it out for the EVO 4G first. Below you'll find a small gallery of screenshots and camera shots from the phone so that you can get a good idea of how the UI looks.
Wrap-up
In a nutshell, the HTC Incredible is hands-down possibly the best Android handset you can get while riding on Verizon's airwaves. If you're able to choose your carrier, then the upcoming release of the EVO 4G from Sprint may be a phone you might want to look into instead. But if you're stuck in Verizon's clutches, the Incredible is the way to go if you're wanting to join the Android party.
BTW, the HTC Calendar widget sucks and has some major issues.
Comments