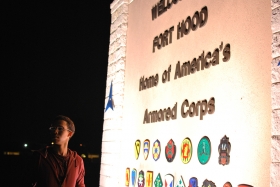 November 5, 2009 started out as a good day. I spent the morning studying and went to school around 10:00AM. I took my English exam and attended my Speech class. A friend and I joked about what the teacher wrote on the board and I received my grade sheet for a speech I had done before. The teacher never gives a grade of 100% and has only given a grade of 99% only two or three times in all of his decades of teaching. I was feeling very happy and accomplished. After school, I bought a few groceries and picked up my sister from school. I go home and check my Twitter to see @myketuna talking about a shooting on Fort Hood. Suddenly everything bursts with breaking news. Local news stations take over and cover stories for news websites are changed. I receive text messages from my friends asking if I was still at the school and if I was okay. My mom owns an alteration shop right outside of the East Gate. For 30 minutes, I try to get a hold of her but the call kept "dropping." She uses a landline phone, so I was confused and getting really worried. Eventually I get a hold of her. She ends up calling me silly and that there's nothing to worry about.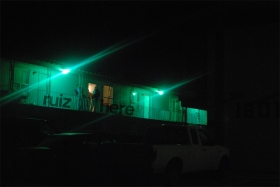 The shooting took place around 1:30PM. I realized that I was driving home from school right outside of the Clear Creek and Main Gates around that time. A few friends and I try to go to Temple to donate blood for the victims, but we heard that the hospital was packed. My friend Matt
(@The_Good_Guy)
is staying at my house because his apartment, which is
directly below Maj. Nidal Malik Hasan's apartment
is on lock-down. We visited the apartment after the lock-down was lifted to retrieve some things. There were still two police vehicles within the vicinity focused on keeping the photojournalists away from the apartment. One photojournalist was arguing with a police officer while looking like an idiot. He was no more mature than a 5-year old. Maybe it was because I was able to walk around the apartment with my camera and he was complaining about it. I took some pictures of the photojournalists and the apartments while waiting for Matt. Officers were still raiding the shooters apartment at the time. There appeared to be about three or four of them walking in and out of the apartment which appeared to have no leads whatsoever. After Matt was finished, we simply left.
What started out as a day of normal activity and enjoyment turned into a day filled with stress and endless condolences. I'll continue to pray for everybody. Please, I hope that you all will do the same. Goodnight.
Comments