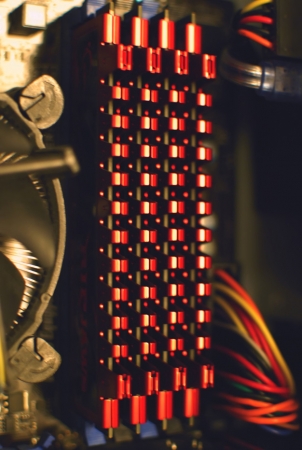 So today, I received my new RAM upgrade for my PC. Went from 8GB to 16GB DDR3 1600 PC3 128000.
"Whoaa, 16 gigs?? That's overboard!!"
Well hell, I think so too. But the main reason I upgraded was for overclockability. The original RAM that I placed in my PC at
the time that I built it
was not very overclockable. Running stock was really the only 100% stable way to get the computer to run without having a
BSOD
slap me in the face every time I attempted to boot up the machine. I could have settled for 8GB of better RAM, but what's the point of throwing down money for the same amount of RAM? I might as well spend a little more for the size jump. I managed to snag it at Newegg at %15 off, so almost $40 saved.
But anyways, now that I'm free of RAM performance limitations, I was able to overclock my Core i7-860 from stock core speed 2.8GHz to a stable 3.5GHz after hours of strenuous trial-and-error testing. It's an impressive jump and a noticable speed difference. The fact that I have 16GB of memory juice running in the sucker is something that makes me all giddy inside like a little girl. It's a good investment that will definitely help in the long run, especially when multitasking and performing operations such as testing code in Linux virtual machines for example.
Next upgrade will probably be focused on the hard drive. I really want to upgrade to a good solid-state drive. The performance boost will definitely be night and day, but I have to make sure I'm getting the most out of my buck before anything. Probably not willing to spend over $150 for a good one. Sometimes, I hate being such a PC enthusiast. Why can't I be as enthusiastic about homework? It wouldn't be as pricey to say the least.
Comments