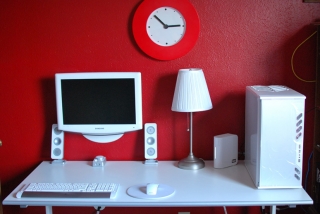 The only good Black Friday deal I was able to snag was from Newegg.com. The Antec Mini P180 White is a computer case that I've been interested in ever sense it first debuted in 2008. Antec is known for their excellent quality computer cases, so I was convinced that this was the best white case I could find on the market today. It would without a doubt be a major upgrade from the ugly Antec case that I noobishly spraypainted white while I was still in high school. The only thing that was really holding me back from getting it at the time was the $149.99 price tag. Newegg.com sold this case for $44.99 ($74.99 before rebate) on Black Friday, which was a steal. I knew I couldn't miss this opportunity, I immediately ordered one of these babies.
The case came in a few days later. It looks beautiful inside and out. The exterior consists of flexible-but-sturdy plastic and polished silver metal that will actually shine white depending on the lighting and the angle you look at it. The interior is different than your traditional chassis design, but still good, even innovative you might say. It features a bottom-mounted power supply slot, two slide-out hard drive bays that hold a total of five hard drives, and three '5.25 (CD drive) bays, one on top and two on the bottom. This case was clearly designed to be silent while maintaining good air flow. The power supply slot and drive bays are padded with silicone grommets to absorb sound and vibration. While there is a rear 120mm fan, there is also a large 200mm fan mounted to the ceiling. Both fans run very smooth and quiet and there's switches on the back of the case that allow you to change the speed fans without opening the case. The ceiling fan is a major plus. Heat naturally rises, so dissipating it out from the top makes perfect sense. There are also three air filters attached to the front and bottom of the case that reduces the amount of dust coming into the case. Instead of opening the case and cleaning it out, all you have to do is take out the filters and clean them, granted that they work like they're supposed to. We'll just have to wait and see to find out.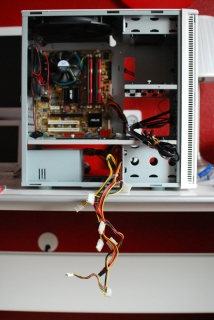 Installation for the most part was very easy. Power supply goes into the bottom, hard drive goes into the bay, CD drive goes here, motherboard goes there, blah blah. My only gripe about the installation was the fact that the 4-pin ground cable from my power supply would not reach my motherboard. The connector was at the TOP of the motherboard and with the power supply at the BOTTOM, the cable wouldn't reach. Now I realize that a design flaw as such isn't really the responsibility of Antec, but wondering if your 4-pin ground cable will reach your motherboard isn't something that normally crosses a customers mind when deciding on a new case. Newegg did offer an extension cable for about $11 after shipping but I would have to wait another week for it to come in. Instead I called the number of every computer shop in the phonebook. The part is very rare, it seemed like nobody had it. Finnally a Korean computer shop owner that operated two cities away had the part I was looking for. I owe it to him for supplying me with the part I needed or else I would still be waiting for it to come in from Newegg. Another problem was that the 120mm rear fan was defective, but because Antec supplied another fan in the box, it was very minor.
Accompanied with the rest of my workstation, this case looks beautiful. It integrates seamlessly and matches perfectly. I have to admit, this case is pretty huge though. The Antec case I upgraded from was smaller than this but was still able to support a much larger motherboard. One could argue that the drive bays account for all the extra space, but with that said, is it really practical to fill all eight bays with stuff when you're using just a MicroATX motherboard? All-in-all, it's a beautiful case that fills my needs perfectly. Would I recommend it to a friend? Not really, unless it specifically meets their needs, which in most cases it won't. Not only that, but I would never pay a full $149.99 for this case. It just doesn't seem worth it at that price point.I give this case an 8/10. Simply perfect as a cosmetic, but not so much as a case.
Comments