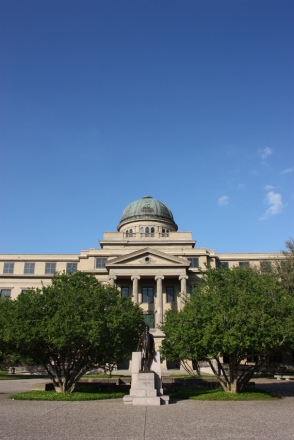 Fall semester is four months away in August. Seems like I have plenty of time, right? Wrong. Though it may seem like I have plenty of time, it will all eventually go away fast if I don't make good use of it.
Yesterday, I visited College Station to catch a glimpse of where I will be staying and what the city had to offer. Though it may be bigger than Killeen, it seems to be a more simple and relaxing place. Both places can get busy nonetheless. A&M keeps College Station busy the same way that Fort Hood keeps Killeen busy. The first thing I did as soon as I arrived in College Station was look for apartments. I found a very decent place not too far from the university that offers everything that I need and more for a very decent price. After visiting a few more places and eating lunch with my Pre-Kindergarten and C-Stat buddy Christina, I decided to sign the lease. I will finally be moving out of the house soon! It's kind of scary and exciting at the same time. Afterwards, Christina took me on a nice little tour of campus life and everything I should be expecting.
The campus is gargantuan, probably bigger than University of Texas Austin and Texas State University combined. The places is packed with students everywhere and the scenery is beautiful. No matter at what angle I looked at the campus, there was always a tree or another form of mother nature's beauty. It's gorgeous and there's no avoiding it. Below are only a few pictures of the campus that don't begin to fathom everything that it has to offer. After touring the campus, we went to the mall where I stocked up on some A&M swag. Window stickers, shirts for my girlfriend and I, etc.
For dinner, we had sushi and for the first time I tried fried ice cream which was awesome. Christina's didn't want to eat anymore after the first bite because her mind was blown. Even I didn't know how in the world it was possible. O.o
All in all it was a good and busy day. It was a really exciting place to visit and I can't wait to be back in a few months. :)
Comments