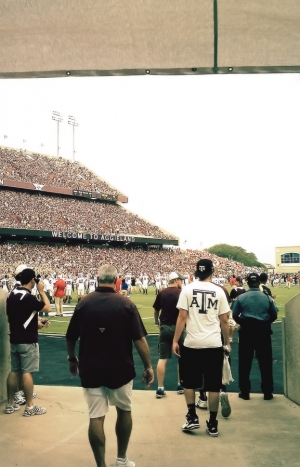 The end of the second week of school is nearly coming to a close now. It's hard to believe that only two weeks have passed already when it feels like a month. It's definitely a shift from the lifestyle I lived back at home when I was counting down the days to leave. Time waddles slowly whenever you're too busy paying attention to it. I can't even begin to count the amount of new people I've met already. It's awesome how little you have to do in order to meet people. Just one little "Hi" to a girl, and then they will talk for an hour (maybe two at clubs/parties. ;) My first two months at TAMU from last year don't even compare to the first two weeks of this year. I made two goals for this school year and so far, the results speak for themselves. I'm doing more and being more of who I am. I wanted to write about my goals earlier, but like I said, I've been pretty busy ever since coming back to College Station. I'm actually fitting this writing between studying and leaving to meet up at a party later. So here goes, I have two primary goals that I want to focus on during my time here at TAMU:
1. Focus
on

studies

My educational career has gone through many ups and downs over time. Anybody who knows me well enough or actually reads what I write here knows this. This year, my classes have been chosen more wisely so that I can get the most out of them. Whenever classes are in session, more of my time is spent studying on campus than it is at home. Home should only be used to get some rest, not to loaf around and do nothing. My game plan looks strong and my mind is more clear. I want this more than anything in life right now. It's going to happen.
2.
Reach

OUT

Last year here was great, but it could have been even greater if I wasn't so lazy. I failed to go to events, meet new people, reach out to others, and be as social as I could have been. That's not going to happen anymore. Relations and events aren't handed to me on a silver platter. Nothing in life is free. I have to go out there and grab it myself. So far this year, I've been going to as many events as I possible. Football games, shows, parties, meetings, events, etc. It's so much worth it and I'm glad to be making the effort. I also joined two different organizations. The first is Epic Movement, which is an Asian-American Christian fellowship group that participates in Bible studies, group activities, and leadership opportunities. I'm still establishing myself with Epic, but the people that I've met already are very kind and outgoing. The second organization that I joined is the TAMU student chapter of AIGA, a design group that seeks to inspire with the value of good design and share the greatness of visualization, whether it's through posters, digital media, etc. Many members are visualization majors and I'm content enough to believe that I might be the only Computer Science, or even Engineering major in the organization. I only see visualization as a mere hobby to be honest, but I hope that with AIGA, I can improve on my freelance skills, use them to reach out to others, make a difference in the Visualization department, even though I have nothing to do with it education-wise.
The

challenge:

Balance

So far so good, but keeping a balance between these two goals is definitely going to be a challenge for me. I will need to use my better judgement to know when it's time to hit the books and when it's time to relax. I feel that I'm confident enough to believe that things will go differently this year for the better. It's time for me to do more and leave my mark. This year is going to be great, I'll make sure of it. Time is really valuable at this point, so with that I have to GO. Until next time!
Comments