It's been a really busy summer and the lack of postings here proves it. Although nothing exciting or adventurous happened while staying in Killeen, I have to say that this has to be the most accomplished summer I've had so far. The 4.0 GPA score for 10 credit-hours alone is enough to give me a feeling of satisfaction. This summer has left me with a few thoughts here and there…
I've come to realize that I'm tired of being told that I need to "experience life." I'm sick of people telling me to do this and that because "life is short" and I should do it before "it's too late." I don't want to hear this anymore. There's nothing for me to "experience" in life right now in my current state. I realize that such actions result in simply being ignorant toward what I need to do in order to live the rest of my life properly, which is finishing my degree in Computer Science and Mathematics. I no longer want to put my education at risk because I was too busy "living life." It was never worth it and I won't do it again.
With that said, I still understand that people need to breathe every once in a while and take it easy. I'm not exactly a robot, so I will take breaks. But from now on, every drop of blood, sweat, and tears will be committed towards finishing school. No matter how many exams I have to take, homework assignments I have to submit, or hours I have to study, I will commit to it to the fullest of my abilities. I will undoubtedly slave away because at the end of the day, seeing the highest scores and grades next to my name is so much more worth anything else I could have done during that time frame.
It may seem like a lot, but this is such a minuscule chapter of my life right now. If I can give up just 4 or 5 years of my life to education so that I can live the remaining majority of my life with true happiness, why wouldn't I do it? Why wouldn't I want to graduate as an engineer, earn a six-figure job, help my mom retire, buy her a new house, by myself a new house, support my (future) family and children, and travel the world all while helping move the world forward with the work that I do? It's just day and night.
Since it's technically the end of another semester, I decided to upload an updated degree plan. I don't think anything like this is too personal to share, so I'll be uploading an updated one at the end of every semester just to milestone and look back as the classes change from red to green. Looking at my degree plan, I'm thinking that I'll be graduating in 2013, more than likely the winter. This is what happens when you don't go straight to a university after high school and waste an entire year of college on 23 useless credit-hours that don't go toward your degree plan. I guess that's what happens when you "live life." ;)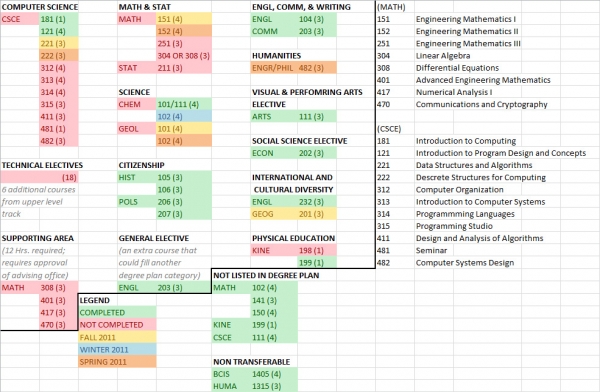 But yeah. Summer is over! I'm ready to leave! Killeen, I love you (kind of), but you're bringing me down. I've been here too long and I will probably never be here for this long ever again.
Comments