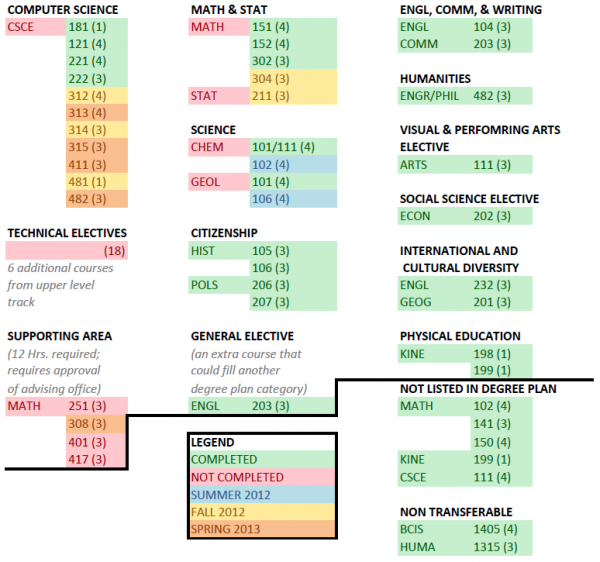 It's the end of another semester, so it's time for another degree plan update. I worked hard this past year and it has paid off. I'm glad that I have been able to successfully recover from that
horrendous blunder that I made last year
. I thought that they didn't take care of this until August, but the Computer Science department moved me to upper-level division already. As a result, I went on ahead and finished my fall registration by registering for the CS classes I needed.
For summer, I will be finishing General Chemistry II and Geology II and I'll be done with all electives in my undergraduate career. After that, I will have nothing else to take but Computer Science and Math classes until I graduate. Looking at my workload, I'm still looking at a target graduation date of December 2013. Worst case scenario is that I may need to continue to hang for another semester as a part-time student and graduate in May 2014, which I have no complaints about. It gives me plenty of time to establish my career plan after graduation.
Where I stand now, I am now officially a senior, finally in upper-level division in my major, and I get my Aggie Ring in the fall. I may have gone through a lot of hardships in life, but I can't express how blessed I am. I've been given every reason to smile and I can't thank God enough for all of it.
The most is important part though, is that I'm not finished; I have to continue working hard. Things just don't get easier just because they're looking up. I pray that I don't let my guard down and that I continue to have the strength to carry on all the way to the end. Here's to next year!
Comments