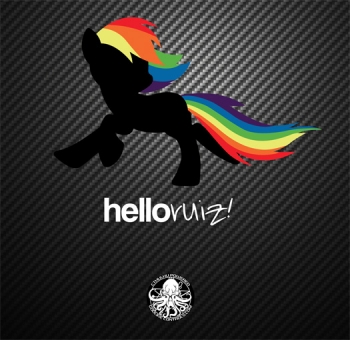 "Dark Brony" is the name of my modified
MadCatz SFIV Round 2 TE FightStick
. This stick has gone though a couple of
cosmetic revisions
already, but I believe this will be the last time that I modify it. Why did I decide to make it "My Little Pony" themed? I don't know, just looks cool. I also silhouetted Rainbow Dash to make it look less girly. But it doesn't matter, because ponies.
Features List
Sanwa JLF Joystick w/ Mesh Balltop
Sanwa button microswitches
Sanwa OBSF-30 Button Rims
Rollie Electronics "Asian Style" 30mm Button Plungers
Seimitsu PS14 Start/Select buttons.
Braided wire sleeving
Bottom artwork features altered Rainbow Dash and "Cthulhu Powered" logo.
To-Do:
Comments