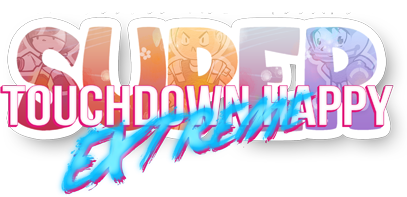 Super Touchdown Happy Extreme is an arcade-style minature game designed to run on Windows 8 devices. You are a Japanese football legend in the making. Your arm is weak but has potential. Through practice and sponsorships, you earn your way to the top.
The game was made in roughly 2 months as a final project for CSCE 443 / VIST 487 (Game Development) during the Fall 2013 semester at Texas A&M University. STHX is one of the few games in the entire history of the course to be fully completed and polished, as well as the FIRST to be featured on an application distribution platform. It was coded in C#, utilized the Monogame framework, and features artwork from two talented artists.
Slightly satirical in nature, we initially wanted the game to revolve around a concept of "Japanese people trying to understand American football." With that said, we wanted to exaggerate it with over- the-top references and as much randomness as possible. Halfway through the project, we found that we were being a bit too random and decided to tone it down a bit. The game now has a unified "cute" style and doesn't really make a mockery any more.