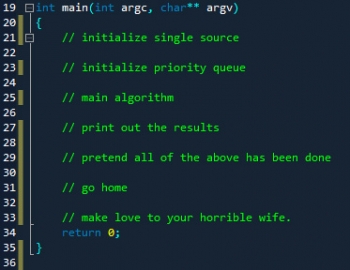 Man, I remember that
awesome final project
I had to make last spring for CSCE 121.
(Seriously check it out, it's pretty cool.)
It was really hard, but fun to make nonetheless. This CSCE 221 final project on the other hand is the snoozefest of the semester. I've already been working on it for 16+ hours yet not much has been done. It's going to take a few miracles, shots of caffeine, and White House lobbying tactics to get this monster finished. My presentation for this slugger to be done on a time slot this Friday. I think I'm going to have to request to have it pushed to a Monday time slot.
I finished two exams this week. The anxiety produced from waiting for my grade is killing me. Words cannot express how much I hate this time of the semester. I hate CSCE 221. No, I hate EVERYTHING. #grinchmodeactivated
Comments