Posted December 28, 2010
On August 19, 2010, after 21 years of happily living my life in my hometown of Killeen, Texas, I packed up everything I had and set out to start a new chapter of my life in a not-entirely-too-distant town called College Station. Little did I know, this wasn't the start of a new chapter. Nowhere near. This was only the beginning. It's what you would call the warm-up, the starter kit, get-your-feet-wet stage… It was only the prologue.
A lot has happened since then. After one semester of attending Texas A&M University and shifting my college career into 2nd gear (I'm technically classified as a Sophmore, don't judge), my lifestyle has dramatically changed in many aspects. I made decisions that have impacted myself and shaped me into who I am today. There's been good days and bad days. I made new friends and lost others. I lived and I learned, but it's not enough. Not at all.
It's been a while since I've written here. The fact that I haven't done so is a statement within itself and represents how busy I've been adjusting to my new life. I feel that it's finally time to start again, but I can't do so without writing down all that has happened since that last time I've written. So here it goes. After a few months, this is me.
A&M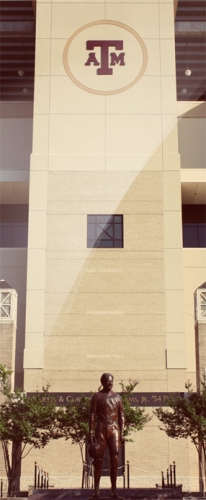 Attending a new school was very tough at first. From the first day of classes, all the way to the last, it was an experience and a transformation from attending community college to say the least. The campus was rich, robust, and full of life. Students and classmates were very kind and outgoing. Everything seemed to be great on the outside, but after about a month, I began to feel very homesick. I wasn't depressed, but the thought of being away from home and even farther from my (then) girlfriend was depressing. I began to have silly thoughts.
"What if I lived in Austin instead? Why not attend University of Texas? I would be closer to home and I could visit my girlfriend more often! That would be cool, wouldn't it?"
Those thoughts led me to fill out a transfer application to UT. All I had to do was write a short essay and submit it. But I didn't submit the application. Why? Because it was premature. I was considering looking into UT when I didn't give A&M the fair chance that it deserved. I was judging A&M based on my current situation and I wasn't looking at the big picture and how it will affect me in the long run. It goes without saying that I will
never
do that again. After taking the time learn and gain experience, I've come to love A&M and realize that this is where I belong. I am
proud
to be a fightin' Texas Aggie and I will never look back!
My classes turned out pretty good. Instead of sitting in a room with a bunch of older, quiet, and awkward people, I'm socializing with courteous people that are my age and really outgoing. My science classes are no longer cougar towns. From my ladies in Chemistry, all the way to my buddies in Intro to Programming, they're all great people to be around with. The course material was tough stuff. A&M is no slouch when it comes to education and I will admit that I was not prepared for it when it came charging at me with all guns blazing. I fought back though, but I feel that I didn't fight back hard enough. I ended up dropping one class and finishing the semester with all B's in the remainder of my classes. I'm determined to do better next semester. Obtaining a 3.5 GPA for the year isn't entirely too difficult and is a very practical goal. I have to really work hard for it this time though, and I won't be stopped.